In today's world, we see technological advancements more than ever.
Companies need to keep up with the new reality and integrate advanced technological solutions into their business. That's why it is necessary for the whole company to come together and work on an IT strategy that can help them meet their business and IT goals.
This article will dive deep into this topic and talk about what is IT strategy, how to come up with an IT strategic plan, and what are the examples of companies that are successfully using this framework for growth.
What is an IT Strategy?
IT strategy is an extensive plan that can help companies understand how to use technologies to meet their business and IT goals. It refers to a written document that points out various factors that can affect a company's use of technology.
In most cases, this strategy helps organizations shape their overall business strategy as well. This is what defines a company's IT vision and helps executives create a strategic roadmap for using digital assets within the company.
Think of it as a tool that can help teams get out of day-to-day thinking and focus on what's really important. Achieving goals on a company level is easier with a proper IT strategy in place.
IT strategies cover every different angle of technology management. It can be human capital management, cost management, risk management, vendor management, etc.
If companies want to execute an IT strategy, they need to have a strong IT leadership on board. Both chief technology (CTO) officer and chief information officer (CIO) need to work together with business and legal departments to make sure that process is going as planned.
The whole documentation of IT strategy should be flexible enough to change according to the new organizational circumstances, business priorities, new market conditions, available skill sets, or user needs. For example, some companies had to change their strategy in 2020 because of the global pandemics.
The Importance of IT strategy
Having the proper IT strategy in place is important for organizations because it provides a sense of direction and helps to outline measurable goals. It is a useful tool for the company executives to make day-to-day decisions and evaluate progress when moving forward.
In recent years, it has become one of the most critical elements for organizational leadership to have an IT strategy in place. This documentation has growing importance because of the growth of the technology sector.
IT solutions have become a critical part of building a successful business, and the importance of an IT strategy is growing rapidly as companies and organizations focus on digital transformation more and more.
If we think about it, technology is an essential part of building new businesses that offer any kind of product or service. It is important to enhance the customer experience, increase sales, improve the productivity of workers, and actively interact with partners.
Technological advancements have pushed businesses to be involved in this sector more than ever. That's why it is extremely important for any organization to keep up with development and put together an IT strategy.
Interested in learning more?
Benefits of IT strategy
There are many benefits that come with having an IT strategy in place. Let's have a deeper look at some of the essential factors that push companies to invest more into this framework.
Increased security
Developing an IT strategy can help you come up with solutions to any gaps in your network security. It can help companies outline the current state of various items, which can be very insightful information on how to minimize any potential threats.
If companies follow all the recommendations from the IT strategy, they can expect an improvement in their IT security and minimize risks in their network.
Change implementation
It is essential for companies to make necessary changes to make their business thrive at a given time. This is especially applicable during the times of digital transformation.
An IT strategy provides a clear picture for companies to see what technological changes they need to make to reach their business goals. It provides insights into how can certain improvements affect the overall business.
For example, if companies have easily accessible remote work options, then they can be more flexible with their employees and offer them to work from anywhere in the world. In this case, it is important to understand technological programs like VPN and firewalls to make sure that your network is safe anywhere your employees go.
Planned costs
Planning the IT strategy can help company executives identify what technology is at risk and which hardware they should replace to support their business growth. This helps to understand the budgeting behind the process.
For example, servers can be a very important infrastructure for companies, and it can be expensive to maintain them. Having it all planned will help businesses make this process more cost-effective and affordable.
Identified risks
Every single business carries some risk. IT strategy can help business owners and executives identify those risks in the most effective way possible.
In some way, risk can be a current technological infrastructure that operates in the company. It might not be supporting the business goals that the organization has at a given time, and it needs major updates. This could be anything from legacy systems to faulty backups.
What is an IT strategic plan?
As we already covered, IT strategy can help companies have more understanding of using technologies to meet their business goals. IT strategic plan, on the other hand, refers to a document that has an in-depth explanation of this process.
This document defines the business strategy that organizations need to implement to enable their IT infrastructure. It also helps to create a portfolio to operate in line with certain business objectives.
All in all, the IT strategic plan document makes sure that the company's IT efforts are directly aligned to its core mission, business strategy, and priorities. IT strategic planning process defines how information technologies are tied to business operations.
Typically, it takes several months to finalize this documentation. It should include input and direction from the IT department and business management team. IT strategic plan is designed for a duration of anywhere from three to five years.
What are the Four Main Points of IT Strategic Planning?
It is important to approach IT strategic planning step by step. The four main points in this process include:
Environmental scanning
The process of gathering, organizing, and analyzing information. The goal is to understand the current landscape clearly, which can help you make better decisions in the long run.
Strategy formulation
In this case, you need to formulate the strategy based on the information you gathered during the previous step — environmental scanning. It helps you understand what the goal is and how to get there.
Strategy implementation
Here you should start clear communication with everyone involved in the process. The entire company should be aware of the company's long-term vision and strategy. Everyone should know their role in this strategy.
Strategy evaluation
The last step in this process is to take care of the continuous improvements in the company. That's where strategy evaluation can help. It is a step of monitoring and adjusting small details that can have a big impact.
What Should be in an IT Strategic Plan?
IT strategic plan documentation consists of many different components.
Firstly, it should have IT's strategic goals and objectives as they relate to business. IT strategy plan should also include information about current IT infrastructure and HR capabilities, requirements for the future plans, and the transition roadmap for IT.
It is important to keep in mind that this document should outline a mission statement that clearly defines what the plans to achieve are. Most of the time, the first step of creating an effective plan is to start by reviewing the company's strategic plan. This step helps to identify specific areas where technology can improve the operational process.
One of the most important components of an IT strategic plan is creating a SWOT analysis. This is where companies should think about their strengths, weaknesses, opportunities, and threats. It can help them identify both internal and external factors that can assist IT in contributing to an organization's success.
This process also helps them exactly identify what's the bridge between the present and the future versions of the company. The department can analyze the barriers and resources that are needed to bridge the gap.
The SWOT analysis is also contributing to analyzing the company's technological assets. This information can be an unknown competitive advantage, which can help companies scale further.
Lastly, the IT strategic plan outline must be clear with its goals. It should include a list of technological investments that can contribute to the overall success of the company. It should also have information about the company's current IT budget to have information about resources that can help meet objectives.
Developing an IT Strategic Plan
There are four main stages that go under the development of an IT strategic plan. Let's have a deeper look at each one of those and see what the main requirements are.
Discovery phase
During this phase, IT leaders and a Chief Information Officer in the company come together to work with the business leaders. They try to identify issues and opportunities within their organization.
At this point, it is important to understand the strategic goals, objectives, and priorities of the company. IT strategic plan supports business pursuits.
Analysis & funding phase
At this stage, business leaders have the opportunity to analyze stakeholder feedback, understand different options, and perform a SWOT analysis of the whole process.
After leaders align their IT goals and objectives with each other, it is important to assess the required resources in terms of technology, funds, and people. If any of these resources look insufficient, the strategy has to be looked over again. This helps companies plan everything according to the resources they have.
Execution phase
The main idea of this phase is to define exactly what are the deliverables and outcomes of their IT strategy plan. This is important because it is closely connected to reaching the business objectives, risk mitigation, and sequencing.
During the execution phase, companies should outline and prioritize long-term and medium-term objectives and goals. Based on this information, they can build a roadmap that is connected to the outcomes of this process.
Budgeting, roles, responsibilities, and key performance indicators (KPIs) should be included with measurement timelines. They should all be aligned with every group that is involved.
Measurement and review phase
The final step of the development process offers the opportunity to see where the IT strategy plan is going and create a feedback loop that can inform companies about the efficiency of a plan.
If it doesn't work as expected, the IT strategy plan can be changed based on what's been learned throughout the journey. It is important to remember that IT strategic planning is a continuous process that is always relevant for members of the organization.
Creating an IT strategic plan requires a lot of attention to detail. It is a valuable process that helps companies plan documentation that guides them to success. It is important to uncover different needs that might exist in the company.
Let's have a look at some examples of an IT strategic plan implementation within the company.
IT Strategy Examples 
There is no stand-alone industry standard for creating an IT strategic plan. There are various processes and examples for strategic planning in an IT organization. Most of them have some common thread between each other, but every single one of them is unique in its own way.
Let's have a look at some examples of IT strategy plans.
IT Strategy Plan Example 1
Source: CMS Technologies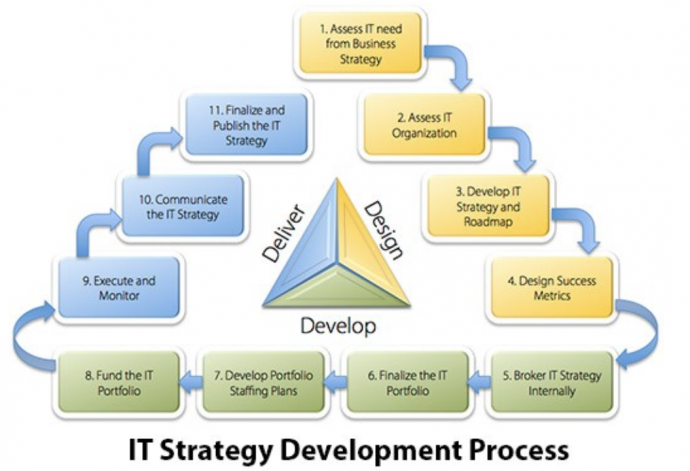 As we can see in the given visual, CMS technologies divide the IT strategy development process into three main layers. These are Design, Develop, and Deliver.
Each of these layers consists of 3-4 steps which ensure in-depth development of the strategic plan every step of the way. Starting from the company assets all the way to communication helps us analyze the plan in detail.
IT Strategy Plan Example 2
Source: CIO Index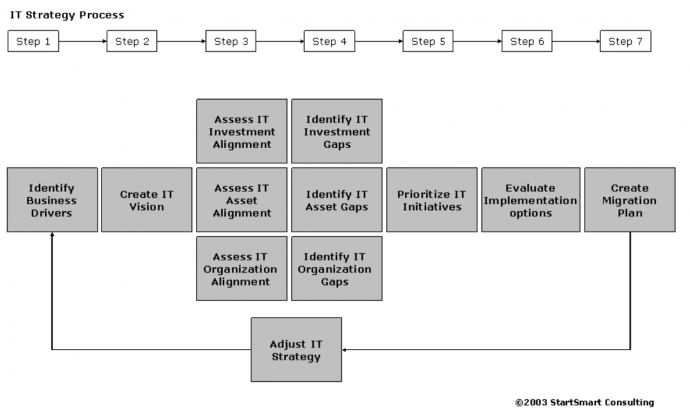 The IT strategy example from CIO Index is a bit more complex. The whole process is broken down into seven different steps, and each one of them has 1-3 layers under it. This plan starts with identifying business divers and creating an IT vision.
Finally, it is time for evaluation, which leads to the migration plan. This plan gives the opportunity to adjust an IT strategy by creating a loop.
IT Strategy Plan Example 3
Source: Info-Tech Research Group
This IT strategic plan example from the Info-tech research group is a simple yet effective procedure for aligning IT strategy with the organization's initiatives and objectives. The plan is specifically designed for small and medium-sized enterprises.
This  IT strategy example includes different sections, such as the purpose of the plan, corporate strategy, business initiatives, IT strategy, and IT strategic plan.
IT Strategic Planning FAQ:
What is an IT strategic planning process?
IT strategic planning process refers to the method that organizations use to develop plans to achieve overall goals. The project planning process, on the other hand, is used to assign tasks to different projects.
Strategy mapping is what helps you determine your mission, vision, and goals. These terms are often confused, but they mean different things.
What is the role of an IT strategic plan?
The primary goal of an IT strategic plan is to focus on the IT vision, processes, and infrastructure of the company. It should make sure that the IT part of the company is aligned with its business goals.
Why is strategic planning important for IT professionals?
It is important to ensure that companies with limited funding can prioritize projects and initiatives that provide the greatest benefit to the organization. This is why it is necessary for IT professionals to take part in the strategic planning process.
What is a roadmap in IT?
Roadmap in IT refers to the type of technology roadmap that companies use to develop a strategic plan for IT initiatives in their organization.
Conclusion
It is important for any company to take care of IT strategic planning at a high level. It offers an integrated portfolio view that helps to connect strategy to delivery. It boosts growth, innovation, and operational efficiency.
With the set processes in place, the IT part of the company is able to break down strategic initiatives and deliver value that affects the company's growth at a high scale.